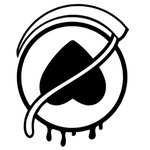 C*MAR "Creative Minds Are Rare"
C*MAR clothing is an artistic collective from Portsmouth, Ohio.
We specialize in street wear clothing and graffiti pieces.
Our 4 members are; Nickolas Sherman, Connor Sherman, June Borell, and Dominique Johnson
C*MAR started in response to need for thought provoking artwork in an industry that refuses to confront the reality of the human condition. Creative Minds Are Rare wishes to make authentic, honest artwork that creates a community of people willing to evaluate themselves, and the things around them. Artwork that holds everyone under the same light, and encourages positive growth.
Think About Your Life. Your time is short. C*MAR loves you
Read more
Prints by C*MAR "Creative Minds Are Rare"
52 results
Filter