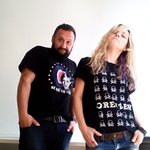 creazer
hello! we are the CREAZER! ƆREAZER are two friends team George and Frosso from Athens Greece. we are designers and photographers. we work together, dream and create. in addition to photography our work is focused on design and illustration. we love music, movies, a good cup of coffee, summer and our kids! if you want something special shoot us an email creazer2@yahoo.gr you can find us here sharing life and inspiration : https://www.instagram.com/the.creazer thanks for stopping by! creazer joined Society6 on May 30, 2014
More
hello!
we are the CREAZER!
ƆREAZER are two friends team George and Frosso from Athens Greece. we are designers and photographers. we work together, dream and create. in addition to photography our work is focused on design and illustration. we love music, movies, a good cup of coffee, summer and our kids! if you want something special shoot us an email creazer2@yahoo.gr
you can find us here sharing life and inspiration : https://www.instagram.com/the.creazer
thanks for stopping by!
creazer joined Society6 on May 30, 2014.