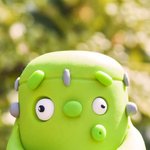 Creepies
www.creepies.co.uk Mrs. Creepy owner, designer, curator, illustrator and monster maker! 23 year old monster lover, with an obsession for Halloween and general creepiness! Started making Creepies and touching clay in May 2013. CF Warrior / Vegan / Halloween / Creep / Animal lover / Excessive coffee drinker Mr. Creepy Photography, Writer, Packaging and Support Mr Creepy has been a photographer for over 12 years and is owner of www.noctography.co.uk. He is the cogs that keep Creepies moving and gives Mrs. Creepy bucket loads of love and support. (And makes the best cups of tea!) Nocturnal / Vegetarian / Nerd / Animal lover / Shutter Bug Creepies joined Society6 on June 29, 2013
More
www.creepies.co.uk
Mrs. Creepy owner, designer, curator, illustrator and monster maker! 23 year old monster lover, with an obsession for Halloween and general creepiness! Started making Creepies and touching clay in May 2013.
CF Warrior / Vegan / Halloween / Creep / Animal lover / Excessive coffee drinker
Mr. Creepy Photography, Writer, Packaging and Support Mr Creepy has been a photographer for over 12 years and is owner of www.noctography.co.uk. He is the cogs that keep Creepies moving and gives Mrs. Creepy bucket loads of love and support. (And makes the best cups of tea!)
Nocturnal / Vegetarian / Nerd / Animal lover / Shutter Bug
Creepies joined Society6 on June 29, 2013.