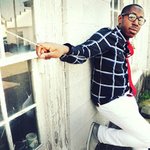 CreeseWorks
Chris is a 3D Modeler and graphic designer. With a BFA in Game Art & Design, he has already demonstrated his skills and potential over his 7 year career, working with NYC based JACQ Magazine, DC's Glade Dance Collective and MTV Guy Code's Jermaine Fowler. Bringing in elements that his clients wouldn't expect into his projects, he has a growing list of happy clientele. In addition to his experience in art, he also has a comprehension of the Japanese language, with 4 years of experience in addition to a one-week stay in Japan. CreeseWorks joined Society6 on February 2, 2014
More
Chris is a 3D Modeler and graphic designer. With a BFA in Game Art & Design, he has already demonstrated his skills and potential over his 7 year career, working with NYC based JACQ Magazine, DC's Glade Dance Collective and MTV Guy Code's Jermaine Fowler. Bringing in elements that his clients wouldn't expect into his projects, he has a growing list of happy clientele.
In addition to his experience in art, he also has a comprehension of the Japanese language, with 4 years of experience in addition to a one-week stay in Japan.
CreeseWorks joined Society6 on February 2, 2014.
CreeseWorks's Store
3 results
Filter