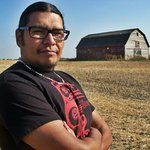 Cree Thunder
Born and raised in Saskatchewan and a registered band member of Sturgeon Lake First Nation, Cory was named the National Film Board of Canada's producer for Saskatchewan, in 2011. Cory Generoux has enjoyed a diverse fourteen-year media career that features award-winning films and television programs, with a solid background in direction, production, cinematography, editing and screenwriting, as well as on-camera work as host, documentary voice-over and comedy performer. Cory is passionate about being immersed in the creative process, whether it is writing or making films, editing music or designing graphics, Cory is always feeding and stoking his creative fires. Cree Thunder is the name of Cory's production company that has been in operation for over a decade and is always the starting point for his larger scale projects. Cree Thunder Online http://www.creethunder.com/ Cree Thunder/Cory Generoux on Vimeo https://vimeo.com/creethunderent Cree Thunder joined Society6 on April 23, 2015
More
Born and raised in Saskatchewan and a registered band member of Sturgeon Lake First Nation, Cory was named the National Film Board of Canada's producer for Saskatchewan, in 2011. Cory Generoux has enjoyed a diverse fourteen-year media career that features award-winning films and television programs, with a solid background in direction, production, cinematography, editing and screenwriting, as well as on-camera work as host, documentary voice-over and comedy performer.
Cory is passionate about being immersed in the creative process, whether it is writing or making films, editing music or designing graphics, Cory is always feeding and stoking his creative fires. Cree Thunder is the name of Cory's production company that has been in operation for over a decade and is always the starting point for his larger scale projects.
Cree Thunder Online http://www.creethunder.com/
Cree Thunder/Cory Generoux on Vimeo https://vimeo.com/creethunderent
Cree Thunder joined Society6 on April 23, 2015.