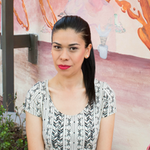 Cris Chocolat
Hi! I'm Cris Chocolat, Entrepreneur, Artist and Domestic Violence Advocate. In 2008 I earned a Bachelor's Degree in Business Administration from the Tijuana Institute of Technology (ITT). Since then I have taken a few courses including: Japanese Language (Level 1 & 2); Digital Branding (Online-Curtin University); U-Lab Transforming Business, Society, and Self (Online-MIT); Comic Law School (SDCC); Intellectual Property (SCORE-San Diego). I have worked at my family's small business, as a kindergarten teacher, tutor (primary school-high school), business startup consultant for Mundo Anime Cafe. Since 2012 I am the owner of Christie's Beautiful Wraps an arts & crafts small business. As an artist I created My Fuzzy Buddiez, cartoon critters inspired by my beloved human and furry friends, presenting my artwork at local arts & culture events including Border Comics (2013) Festiarte (2013-2014), Fusionarte (2013-2015) and Entijuanarte (2015); my work has been featured in TV Azteca, Uniradio TV, Sintesis TV, and Rosarito Channel. In 2014 I joined Fundacion Manos Entrelazadas, a foundation that works on child sexual abuse and domestic violence prevention, and had the honor of illustrating the foundation's child sexual abuse prevention book. That same year I was invited to participate in the event Top 100 Women: 100 Mujeres por Tijuana, alongside Tijuana's most influential Businesswomen and Executives. Currently I am a part of Colectivo Mapache a group of Mexican artists that create artwork, illustrations, comics and graphic design individually and collectively. I am also the Sales & Marketing coordinator at Irigoyen.art. Cris Chocolat joined Society6 on March 18, 2014
More
Hi! I'm Cris Chocolat, Entrepreneur, Artist and Domestic Violence Advocate. In 2008 I earned a Bachelor's Degree in Business Administration from the Tijuana Institute of Technology (ITT). Since then I have taken a few courses including: Japanese Language (Level 1 & 2); Digital Branding (Online-Curtin University); U-Lab Transforming Business, Society, and Self (Online-MIT); Comic Law School (SDCC); Intellectual Property (SCORE-San Diego).
I have worked at my family's small business, as a kindergarten teacher, tutor (primary school-high school), business startup consultant for Mundo Anime Cafe. Since 2012 I am the owner of Christie's Beautiful Wraps an arts & crafts small business.
As an artist I created My Fuzzy Buddiez, cartoon critters inspired by my beloved human and furry friends, presenting my artwork at local arts & culture events including Border Comics (2013) Festiarte (2013-2014), Fusionarte (2013-2015) and Entijuanarte (2015); my work has been featured in TV Azteca, Uniradio TV, Sintesis TV, and Rosarito Channel.
In 2014 I joined Fundacion Manos Entrelazadas, a foundation that works on child sexual abuse and domestic violence prevention, and had the honor of illustrating the foundation's child sexual abuse prevention book. That same year I was invited to participate in the event Top 100 Women: 100 Mujeres por Tijuana, alongside Tijuana's most influential Businesswomen and Executives.
Currently I am a part of Colectivo Mapache a group of Mexican artists that create artwork, illustrations, comics and graphic design individually and collectively. I am also the Sales & Marketing coordinator at Irigoyen.art.
Cris Chocolat joined Society6 on March 18, 2014.