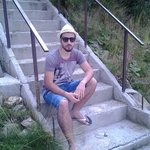 cristi-scg
Cristi Artist | Hobbyist | Digital Art Hello I`m Cristi from Romania and i like to draw/paint digitaly.Feel free to browse my gallery and comment on my artworks... If you like something, please buy it to show your support. Interests Favorite movies Godfather,Inception,The lord of the rings,Harry Potter and many others.... Favorite TV shows Supernatural, Dexter, Breaking bad, Fringe, Chuck, House, Black Sails,Game of thrones Favorite games Fallout New Vegas and 3,GTA IV,AssassinsCreed(1.2.3),Mafia(I,II) Favorite gaming platform PC cristi-scg joined Society6 on December 9, 2014
More
Cristi Artist | Hobbyist | Digital Art
Hello I`m Cristi from Romania and i like to draw/paint digitaly.Feel free to browse my gallery and comment on my artworks... If you like something, please buy it to show your support.
Interests Favorite movies Godfather,Inception,The lord of the rings,Harry Potter and many others.... Favorite TV shows Supernatural, Dexter, Breaking bad, Fringe, Chuck, House, Black Sails,Game of thrones Favorite games Fallout New Vegas and 3,GTA IV,AssassinsCreed(1.2.3),Mafia(I,II) Favorite gaming platform PC
cristi-scg joined Society6 on December 9, 2014.