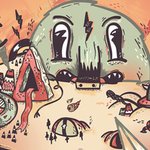 CRNS
Adam Cairns (CRNS) is a designer & illustrator from Scotland. He has been producing illustration work for three years and has worked previously in a studio setting. When he is not creating art for various clients worldwide, he enjoys doodling on anything ; including the walls, creating a new doodle every day as part of his DailyDuudle challenge. CRNS is also a key member of the international collective Intrinsic Nature - helping to run the group of diverse artists. He would love to work on children's illustration in the future and write professionally. When not doodling, you can find him rambling on Twitter, or posting regular updates on Instagram. Twitter - Adam\_Cairns Instagram - CRNS\_ CRNS joined Society6 on July 3, 2013
More
Adam Cairns (CRNS) is a designer & illustrator from Scotland. He has been producing illustration work for three years and has worked previously in a studio setting.
When he is not creating art for various clients worldwide, he enjoys doodling on anything ; including the walls, creating a new doodle every day as part of his DailyDuudle challenge. CRNS is also a key member of the international collective Intrinsic Nature - helping to run the group of diverse artists. He would love to work on children's illustration in the future and write professionally.
When not doodling, you can find him rambling on Twitter, or posting regular updates on Instagram.
Twitter - Adam_Cairns
Instagram - CRNS_
CRNS joined Society6 on July 3, 2013.