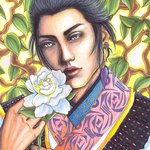 cronasonlyfriend
Hi there ;P
You can call me Crona. I am a novelist and artist. I mostly draw manga-style work and semi-realism, and I'm studying right now to be an animator.
I am inspired to draw by pretty much anything and everything: books, poetry, music, other artwork, characters, concepts, emotions, people, etc.
My main project right now is an original fantasy webcomic called "Callous."
You can see my other artworks here: http://cronasonlyfriend.deviantart.com/
Read more