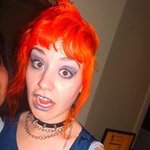 Cross-Eyed Morgan
ART For information, prices, or a quote please email crosseyedmorgan@hotmail.co.nz Cross-Eyed Morgan encompasses all the artwork, crafts, and personal style of Morgan Ryan. Lowbrow, punk, horror, sci-fi, fantasy, and any other weird genres that tickle my fancy. Predominantly painting in either acrylic and oils, or watercolours. I mostly paint figurative humans or humanoid creatures. My work is influenced by movie/other stories atmospheres and aesthetic. Some of my very early acrylic paintings which I now think of as "classics" and were really my first step into horror and macabre, were inspired by the real life experiences of Chris Costner-Sizemore as written in her auto-biography Eve. Chris, who was born in the late 20s, had multiple personalities, which fought against each other, and caused her to lead a very strange and troubled life. A movie called The Three Faces of Eve was made about her, based on a biography one of her doctors wrote, but as she states in her own telling of her life this first book and movie is highly inaccurate. Eve reads more like a fictional book, and shows the horror of being undiagnosed and misunderstood in an un-accepting world, while having your own self (or selves) against you. My artwork at this time features portraits being mutilated by pencils (as well as writing her autobiography, Chris was also an artist), mixed media works using old photos and collage, and cogs to symbolise thought and the workings of the brain. Cogs have since been present in many of my works. Chris was an advocate for others with multiple personalities, until her death in 2016. The darkness of movies like Alien, The Matrix, and the game series Silent Hill inspires me to create dark and creepy works. Although I like everything weird I'm not actually all that dark a person, which is why I think much of my art turns out somewhat light-hearted. My final works for Fine Arts degree were based on this dark humour, or light-hearted horror, with films like Hellraiser and Peter Jackson's "Splatstick" being major influences. Please consider supporting me by becoming a Patron, while also accessing exclusive rewards: http://www.patreon.com/crosseyedmorgan I'm also the creator and Director of the Cross-Eyed Collective. Follow my facebook page for exhibitions and other event updates: http://www.facebook.com/crosseyedmorgan To find out more about the Cross-Eyed Collective please check out website (coming soon, currently under construction): http://www.crosseyedcollective.tumblr.com Original Artworks, Prints, Crafts, and Merchandise for Sale: Etsy (Worldwide) http://www.etsy.com/shop/crosseyedmorgan TradeMe (New Zealand only) http://www.trademe.co.nz/Members/Listings.aspx?member=3464127 Find me elsewhere with @crosseyedmorgan Tags: lowbrow, alternative, punk, goth, steampunk, horror, macabre, spooky, uncanny, gross, weird, strange, sci-fi, fantasy, distorted, disturbing, portraits, portraiture, monsters, fairies, fairys, magic, pin-up, painting, watercolour, watercolor, oils, oil painting, crafts, textiles, knitting, needle felting, sewing, mixed media, video, film, sculpture. LIFE From Wellington, New Zealand, I grew up in an arty family, with creativity and a strange aesthetic always around me. My mum drew portraits of myself and my siblings, and fairies to display in my bedroom, while my dad stored his dark and creepy oil paintings and sculptures around the house. This no doubt influenced the work I would later create. I fell in love with painting in High School and have continued to work on this ever since. My more alternative style in art and fashion was always present but really developed towards the end of my time at Massey University, Wellington where I received a Bachelor of Fine Arts. During my study I branched out from the usual Fine Arts curriculum and took Design classes in printmaking, textiles, and industrial design. Although I studied Fine Arts, my actual painting is self-taught, as my university had a focus on conceptualising and critiquing work. Although this way of thinking has been greatly beneficial to my art and life, I do feel some of my work lacks technical ability, which is something I want to continue working on so I can grow as an artist. The name Cross-Eyed Morgan was inspired by an old band I was in with my sister; Cross-Eyed Mary, and this name was taken from a Jethro Tull song. I was a singer and bassist for a few years and in a few different bands but this is not something I have decided to continue with. Fun fact: I can't actually go cross-eyed, at least not on purpose! I watch a lot of movies and TV shows, and have them playing while I make art. These no doubt influence me, and I imagine it's why I've been told my work reminds people of The Matrix. Let's Plays of specific games I sometimes like to watch instead, which is probably why my work has reminded people of Silent Hill. I watch a lot of women-lead comedies too, but I don't know if my art reminds anyone of Bridesmaids. Besides art I like to attend poetry, pole dancing, and other cabaret events. I can sing and although my interest in music has waned since my band days I still enjoy belting out a song with friends. You can see what I get up to on social media, come find me with @crosseyedmorgan Cross-Eyed Morgan joined Society6 on April 19, 2014
More
ART
For information, prices, or a quote please email crosseyedmorgan@hotmail.co.nz
Cross-Eyed Morgan encompasses all the artwork, crafts, and personal style of Morgan Ryan. Lowbrow, punk, horror, sci-fi, fantasy, and any other weird genres that tickle my fancy.
Predominantly painting in either acrylic and oils, or watercolours. I mostly paint figurative humans or humanoid creatures.
My work is influenced by movie/other stories atmospheres and aesthetic. Some of my very early acrylic paintings which I now think of as "classics" and were really my first step into horror and macabre, were inspired by the real life experiences of Chris Costner-Sizemore as written in her auto-biography Eve. Chris, who was born in the late 20s, had multiple personalities, which fought against each other, and caused her to lead a very strange and troubled life. A movie called The Three Faces of Eve was made about her, based on a biography one of her doctors wrote, but as she states in her own telling of her life this first book and movie is highly inaccurate. Eve reads more like a fictional book, and shows the horror of being undiagnosed and misunderstood in an un-accepting world, while having your own self (or selves) against you. My artwork at this time features portraits being mutilated by pencils (as well as writing her autobiography, Chris was also an artist), mixed media works using old photos and collage, and cogs to symbolise thought and the workings of the brain. Cogs have since been present in many of my works. Chris was an advocate for others with multiple personalities, until her death in 2016.
The darkness of movies like Alien, The Matrix, and the game series Silent Hill inspires me to create dark and creepy works. Although I like everything weird I'm not actually all that dark a person, which is why I think much of my art turns out somewhat light-hearted. My final works for Fine Arts degree were based on this dark humour, or light-hearted horror, with films like Hellraiser and Peter Jackson's "Splatstick" being major influences.
Please consider supporting me by becoming a Patron, while also accessing exclusive rewards: http://www.patreon.com/crosseyedmorgan
I'm also the creator and Director of the Cross-Eyed Collective. Follow my facebook page for exhibitions and other event updates: http://www.facebook.com/crosseyedmorgan
To find out more about the Cross-Eyed Collective please check out website (coming soon, currently under construction): http://www.crosseyedcollective.tumblr.com
Original Artworks, Prints, Crafts, and Merchandise for Sale:
Etsy (Worldwide) http://www.etsy.com/shop/crosseyedmorgan
TradeMe (New Zealand only) http://www.trademe.co.nz/Members/Listings.aspx?member=3464127
Find me elsewhere with @crosseyedmorgan
Tags: lowbrow, alternative, punk, goth, steampunk, horror, macabre, spooky, uncanny, gross, weird, strange, sci-fi, fantasy, distorted, disturbing, portraits, portraiture, monsters, fairies, fairys, magic, pin-up, painting, watercolour, watercolor, oils, oil painting, crafts, textiles, knitting, needle felting, sewing, mixed media, video, film, sculpture.
LIFE
From Wellington, New Zealand, I grew up in an arty family, with creativity and a strange aesthetic always around me. My mum drew portraits of myself and my siblings, and fairies to display in my bedroom, while my dad stored his dark and creepy oil paintings and sculptures around the house. This no doubt influenced the work I would later create.
I fell in love with painting in High School and have continued to work on this ever since. My more alternative style in art and fashion was always present but really developed towards the end of my time at Massey University, Wellington where I received a Bachelor of Fine Arts. During my study I branched out from the usual Fine Arts curriculum and took Design classes in printmaking, textiles, and industrial design.
Although I studied Fine Arts, my actual painting is self-taught, as my university had a focus on conceptualising and critiquing work. Although this way of thinking has been greatly beneficial to my art and life, I do feel some of my work lacks technical ability, which is something I want to continue working on so I can grow as an artist.
The name Cross-Eyed Morgan was inspired by an old band I was in with my sister; Cross-Eyed Mary, and this name was taken from a Jethro Tull song. I was a singer and bassist for a few years and in a few different bands but this is not something I have decided to continue with. Fun fact: I can't actually go cross-eyed, at least not on purpose! I watch a lot of movies and TV shows, and have them playing while I make art. These no doubt influence me, and I imagine it's why I've been told my work reminds people of The Matrix. Let's Plays of specific games I sometimes like to watch instead, which is probably why my work has reminded people of Silent Hill. I watch a lot of women-lead comedies too, but I don't know if my art reminds anyone of Bridesmaids.
Besides art I like to attend poetry, pole dancing, and other cabaret events. I can sing and although my interest in music has waned since my band days I still enjoy belting out a song with friends.
You can see what I get up to on social media, come find me with @crosseyedmorgan
Cross-Eyed Morgan joined Society6 on April 19, 2014.