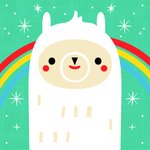 Crowded Teeth
Crowded Teeth is the adorable never-ending project of artist Michelle Romo.
Inspired by the need to make somebody's favorite something, Michelle is on an endless pursuit of drawing blobs with faces, cats in sweaters, and monsters who would really like to hug you.
The positive vibes, beautiful design, and fun times that Crowded Teeth puts into the world connect with people of all ages. It's a magical universe of wonderful, sweet characters where new friends are added every day!
Fore more info. visit www.crowdedteeth.com.
Read more
Crowded Teeth's Store
36 results
Filter