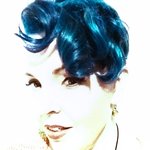 Crystal Desharnais of Blessings Studio
I am a Professional Fine Artist & Designer. I specialize in large scale abstract art, primarily Acrylic and Oil Knowing that not everyone can afford an Original, I wanted to make some of the iconic paintings I do a little more tangible for others! I am totally blessed to be painting in the paradise of Pender Island B.C. Canada I still sell the Originals... and of course have clients in "real life" too, so check out MORE at www.blessingsstudio.com Twitter @ "Blessings Studio" Facebook "Crystal Desharnais - Fine Artist" Commissions welcome - 250-640-8851 Cell Thank you for Supporting Artists and Artisans alike, Happy Shopping ~ Artist, Crystal Desharnais Crystal Desharnais of Blessings Studio joined Society6 on November 10, 2013
More
I am a Professional Fine Artist & Designer. I specialize in large scale abstract art, primarily Acrylic and Oil
Knowing that not everyone can afford an Original, I wanted to make some of the iconic paintings I do a little more tangible for others!
I am totally blessed to be painting in the paradise of Pender Island B.C. Canada
I still sell the Originals... and of course have clients in "real life" too, so check out MORE at
www.blessingsstudio.com Twitter @ "Blessings Studio" Facebook "Crystal Desharnais - Fine Artist"
Commissions welcome - 250-640-8851 Cell
Thank you for Supporting Artists and Artisans alike, Happy Shopping ~ Artist, Crystal Desharnais
Crystal Desharnais of Blessings Studio joined Society6 on November 10, 2013.