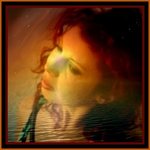 Crystalline
Hello and thank you for visiting my portfolio. I am Cristina, a native of Romania. At the age of 14, my family and I fled Communism and moved to Geneva/Switzerland, helped by one of my uncles to settle there. I lived for almost 5 years where I have met Dan, a talented Romanian musician. Drawn together by similar tastes in music and art, we fell in love. Dan moved with his family to Toronto, Canada, shortly after his graduation; a year later, I joined him, we got married in London/Ontario and started to experiment with art and music. I enjoyed exploring the mind's mysteries, expressing my emotions spontaneously by mixing mediums-watercolors, acrylics, making collages using organic or synthetic materials. For some of my artwork I used light digital manipulation. In 1999 we have returned to native Romania for a visit and decide to settle in a mountain village where life is as it was two hundred years ago. Horse drawn carriages, wooden stoves, secular traditional customs and lots of fresh air.I also discovered painting with encaustics and I am still fascinated by this interesting medium. My artwork is for sale in any format possible: greeting cards, posters, laminated prints, matted prints, framed prints, posters. Some originals are still available for sale. Please contact me if you like to purchase original artwork. I am also looking for collaborators from the fields of industrial design, textile design, surfboards design, etc. Please contact me if interested. These works go alongside our original electronic music projects that you can hear and watch videos made by our fans on YouTube channel called Outersanctum Music: http://www.youtube.com/playlist?list=PL4F09C95BE97638D6&feature=mh_lolz You can also enjoy some of my work & hear my music right here: http://www.youtube.com/watch?v=SdDw0_TAREQ http://www.youtube.com/watch?v=deWz9JG-Uy8&list=PL4F09C95BE97638D6&index=5&feature=plpp_video If interested to purchase more products with my original artwork: http://www.zazzle.com/outersanctum Copyright controlled by Cristina Handrabur. Crystalline joined Society6 on April 23, 2014
More
Hello and thank you for visiting my portfolio.
I am Cristina, a native of Romania. At the age of 14, my family and I fled Communism and moved to Geneva/Switzerland, helped by one of my uncles to settle there. I lived for almost 5 years where I have met Dan, a talented Romanian musician. Drawn together by similar tastes in music and art, we fell in love. Dan moved with his family to Toronto, Canada, shortly after his graduation; a year later, I joined him, we got married in London/Ontario and started to experiment with art and music. I enjoyed exploring the mind's mysteries, expressing my emotions spontaneously by mixing mediums-watercolors, acrylics, making collages using organic or synthetic materials. For some of my artwork I used light digital manipulation.
In 1999 we have returned to native Romania for a visit and decide to settle in a mountain village where life is as it was two hundred years ago. Horse drawn carriages, wooden stoves, secular traditional customs and lots of fresh air.I also discovered painting with encaustics and I am still fascinated by this interesting medium.
My artwork is for sale in any format possible: greeting cards, posters, laminated prints, matted prints, framed prints, posters. Some originals are still available for sale. Please contact me if you like to purchase original artwork.
I am also looking for collaborators from the fields of industrial design, textile design, surfboards design, etc. Please contact me if interested.
These works go alongside our original electronic music projects that you can hear and watch videos made by our fans on YouTube channel called Outersanctum Music:
http://www.youtube.com/playlist?list=PL4F09C95BE97638D6&feature=mh_lolz
You can also enjoy some of my work & hear my music right here:
http://www.youtube.com/watch?v=SdDw0_TAREQ
http://www.youtube.com/watch?v=deWz9JG-Uy8&list=PL4F09C95BE97638D6&index=5&feature=plpp_video
If interested to purchase more products with my original artwork: http://www.zazzle.com/outersanctum
Copyright controlled by Cristina Handrabur.
Crystalline joined Society6 on April 23, 2014.