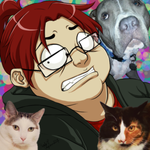 CrystallineColey
Nicole Ingram is a free lance artist working in both digital and traditional mediums. Orignally from Woodbury, NJ, she now resides in Los Angeles, CA with her husband, two cats and dog. She specializes in fan art, illustrations and sketch card art. Her favourite subjects are Tori Amos and Harry Potter. deviantART: http://crystallinecoley.deviantart.com Tumblr: http://crystallinecoley.tumblr.com Facebook: http://facebook.com/NicoleLeslieIngramArt Twitter: http://twitter.com/ColeyIngram Etsy: http://etsy.com/shop/crystallinecoley CrystallineColey joined Society6 on August 9, 2013
More
Nicole Ingram is a free lance artist working in both digital and traditional mediums. Orignally from Woodbury, NJ, she now resides in Los Angeles, CA with her husband, two cats and dog. She specializes in fan art, illustrations and sketch card art. Her favourite subjects are Tori Amos and Harry Potter.
deviantART: http://crystallinecoley.deviantart.com Tumblr: http://crystallinecoley.tumblr.com Facebook: http://facebook.com/NicoleLeslieIngramArt Twitter: http://twitter.com/ColeyIngram Etsy: http://etsy.com/shop/crystallinecoley
CrystallineColey joined Society6 on August 9, 2013.