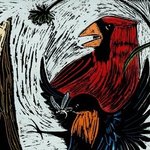 Christine J Shanks
I can't commit to one medium. I am a birder. I am an Assistant Professor teaching design, illustration, photography and web. I am a huge fan of information and communication visual or written. You can find me at oddbirdcreative.com and christineshanks.com, from there visit my many other haunts on the web. Christine J Shanks joined Society6 on July 16, 2011
More
I can't commit to one medium. I am a birder. I am an Assistant Professor teaching design, illustration, photography and web. I am a huge fan of information and communication visual or written.
You can find me at oddbirdcreative.com and christineshanks.com, from there visit my many other haunts on the web.
Christine J Shanks joined Society6 on July 16, 2011.
Christine J Shanks's Store
16 results
Filter