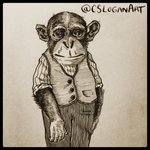 CSLogan
Logan Szymanowski is an artist, writer and musician based out of Chicago. He is interested in the purity of line. His work, often in black and white are created through meticulously and methodically rendered lines. Each stroke carefully articulates the forms in his figures similar to 18th and 19th century engravings. Though his approach is traditional, his imagery is contemporary, whimsical, and a reflection of self. His work has been featured in galleries, posters and album covers. Keep up with Logan and his art! Instagram: @csloganart www.facebook.com/csloganartist www.twitter.com/cslogan www.ArtOfCSLogan.com CSLogan joined Society6 on January 23, 2014
More
Logan Szymanowski is an artist, writer and musician based out of Chicago. He is interested in the purity of line. His work, often in black and white are created through meticulously and methodically rendered lines. Each stroke carefully articulates the forms in his figures similar to 18th and 19th century engravings. Though his approach is traditional, his imagery is contemporary, whimsical, and a reflection of self. His work has been featured in galleries, posters and album covers.
Keep up with Logan and his art!
Instagram: @csloganart www.facebook.com/csloganartist www.twitter.com/cslogan
www.ArtOfCSLogan.com
CSLogan joined Society6 on January 23, 2014.