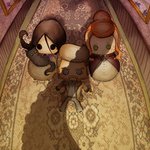 Cthulhu Chronicles
Cthulhu Chronicles is a Lovecraftian webcomic based on two years of RPG adventures (written by master Davide Bergamini), adapted and illustrated respectively by Fry (Francesca Basso) and Ren (Sonia Amaduzzi). London, 1889. Three strangers, a mechanic, an illusionist and a psychiatrist, have to face mysterious events, fanatic cultists and strange creatures against their will, dragged into a terrible, deranged reality that will radically change their lives. Cthulhu Chronicles joined Society6 on March 23, 2015
More
Cthulhu Chronicles is a Lovecraftian webcomic based on two years of RPG adventures (written by master Davide Bergamini), adapted and illustrated respectively by Fry (Francesca Basso) and Ren (Sonia Amaduzzi).
London, 1889. Three strangers, a mechanic, an illusionist and a psychiatrist, have to face mysterious events, fanatic cultists and strange creatures against their will, dragged into a terrible, deranged reality that will radically change their lives.
Cthulhu Chronicles joined Society6 on March 23, 2015.