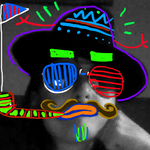 Nora Vincze
I'm a freelance illustrator/animator from Hungary and I like to draw a lot. I also like coffee and snails. In my freetime I'm mostly working on my upcoming webcomic, Downtown Intrigues, doodling silly things, hugging every animal I can etc. http://curvedcat.tumblr.com/tagged/DownTown-Intrigues http://downtown-intrigues.tumblr.com/ Portfolio: http://behance.net/curvedcat Nora Vincze joined Society6 on January 4, 2014
More
I'm a freelance illustrator/animator from Hungary and I like to draw a lot. I also like coffee and snails.
In my freetime I'm mostly working on my upcoming webcomic, Downtown Intrigues, doodling silly things, hugging every animal I can etc. http://curvedcat.tumblr.com/tagged/DownTown-Intrigues http://downtown-intrigues.tumblr.com/ Portfolio: http://behance.net/curvedcat
Nora Vincze joined Society6 on January 4, 2014.