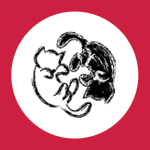 cvthvus
[Kát-háüz], noun; home of the cat. Previously an amateur cat-themed illustration zine, cvthvus has renewed its medium to expand and to pursue its point to create stories with no boundaries. This is an area for interaction, for a challenge, to work with no limits beyond those physical and creative, without any fear to take chances, to play around or to try new solutions. Visit our website on http://cargocollective.com/cvthvus cvthvus joined Society6 on April 10, 2014
More
[Kát-háüz], noun; home of the cat.
Previously an amateur cat-themed illustration zine, cvthvus has renewed its medium to expand and to pursue its point to create stories with no boundaries. This is an area for interaction, for a challenge, to work with no limits beyond those physical and creative, without any fear to take chances, to play around or to try new solutions.
Visit our website on http://cargocollective.com/cvthvus
cvthvus joined Society6 on April 10, 2014.