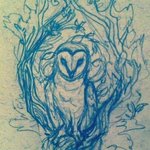 Cyan Owl
I would like to type this and say I am a cyan-blue owl, but sadly that is not the case. You can pretend I am if that makes you feel better. I am simply an artist, working on my skills and exploring paths. If you're interested in seeing some of my in progress and new work (and day to day adventures) you can follow along on my instagram, www.instagram.com/cyanmeowl If you are interested in original art I happily have an etsy shop that offers those. Head on over to cyanowl.etsy.com for all your dreams to come true (I may have over exaggerated that but close enough). Good day to you! Cyan Owl joined Society6 on May 2, 2013
More
I would like to type this and say I am a cyan-blue owl, but sadly that is not the case. You can pretend I am if that makes you feel better. I am simply an artist, working on my skills and exploring paths.
If you're interested in seeing some of my in progress and new work (and day to day adventures) you can follow along on my instagram, www.instagram.com/cyanmeowl
If you are interested in original art I happily have an etsy shop that offers those. Head on over to cyanowl.etsy.com for all your dreams to come true (I may have over exaggerated that but close enough).
Good day to you!
Cyan Owl joined Society6 on May 2, 2013.