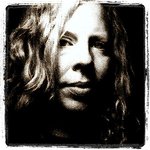 CynthiaPatton
Cynthia Patton is a lifelong artist based in NY. She has had her plush work Nationally published and regularly shows her work at festivals like The Country Living Fair. Cynthia has been known to work in anything that suits her fancy! Currently, the majority of her work is in fabric, but she has tried her hand at everything from lithography and letterpress to furniture making and sculpture. In her daily life, she is motivated by nature, reading far too many books, watching her favorite movies, listening to music, COFFEE, visits to museums, and being trapped in her studio and dreaming of the world that lies beyond it. You can see more of her work or follow her wanderings on : http://www.VagabondArtistry.com http://www.facebook.com/VagabondArtistry http://www.twitter.com/vagabondartest http://www.instagram.com/VagabondArtistry CynthiaPatton joined Society6 on August 28, 2014
More
Cynthia Patton is a lifelong artist based in NY. She has had her plush work Nationally published and regularly shows her work at festivals like The Country Living Fair. Cynthia has been known to work in anything that suits her fancy! Currently, the majority of her work is in fabric, but she has tried her hand at everything from lithography and letterpress to furniture making and sculpture. In her daily life, she is motivated by nature, reading far too many books, watching her favorite movies, listening to music, COFFEE, visits to museums, and being trapped in her studio and dreaming of the world that lies beyond it.
You can see more of her work or follow her wanderings on :
http://www.VagabondArtistry.com
http://www.facebook.com/VagabondArtistry
http://www.twitter.com/vagabondartest
http://www.instagram.com/VagabondArtistry
CynthiaPatton joined Society6 on August 28, 2014.
CynthiaPatton's Store
9 results
Filter