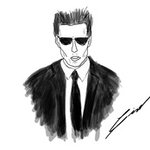 Cyrus Wang
Ciro Ayala is an award-winning filmmaker, music video director and artist, known for his surreal and dark style. With more than 700 projects under his name, he is also the founder of Provoke Films and VokeModels TV. Ciro has been credited as filmmaker, writer, and producer on projects for Paul Oakenfold, Armin van Buuren, DJ Antoine, Da Hool, Rui Da Silva, Audien, and Sebastian Lohse. Commercial works include Rockstar Energy Drink, Coolermaster LTD, Fashion One TV Network, Green World Ecological Park, Glenfiddich, Mio GPS and Inventec Corporation. For more information, please visit: www.provokefilms.com Cyrus Wang joined Society6 on November 15, 2014
More
Ciro Ayala is an award-winning filmmaker, music video director and artist, known for his surreal and dark style. With more than 700 projects under his name, he is also the founder of Provoke Films and VokeModels TV. Ciro has been credited as filmmaker, writer, and producer on projects for Paul Oakenfold, Armin van Buuren, DJ Antoine, Da Hool, Rui Da Silva, Audien, and Sebastian Lohse. Commercial works include Rockstar Energy Drink, Coolermaster LTD, Fashion One TV Network, Green World Ecological Park, Glenfiddich, Mio GPS and Inventec Corporation.
For more information, please visit: www.provokefilms.com
Cyrus Wang joined Society6 on November 15, 2014.