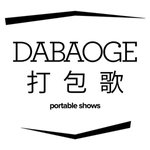 DaBaoGe Documentary Films
Documentary-style, indie music videos, filmed across China, in unusual locations. DaBaoGe (literally "a song you sing while you're packing up") is a bilingual music project producing independent, documentary-style music videos throughout Greater China. We're not tied to any particular genre and we ask artists to perform in a location that you wouldn't typically see them performing in. Where possible we aim to make music for an unsuspecting audience, and capture the energy, artistry and unpredictability of live performance. Every film receives a hand-drawn treatment from Nini Sum of Idlebeats, who produces unique art prints inspired by each film as part of an on-going collaboration with DaBaoGe. Logo and titles designed by Keflouis V. DaBaoGe is a not-for-profit project and receives generous support from Converse. In the last 9 months, we've filmed The Black Atlantic (Holland), French Horn Rebellion (US), Fetish People (Taiwan), Hanggai (Beijing) and Little Punk (Shanghai), Zhang Shouwang (Beijing) and Lucifer (Beijing). The Black Atlantic said "It's the best live video we've ever done". Inspired by The Takeaway Shows and Daytrotter. Founded by Andy Miller and Charles Lanceplaine. DaBaoGe Documentary Films joined Society6 on May 28, 2013
More
Documentary-style, indie music videos, filmed across China, in unusual locations.
DaBaoGe (literally "a song you sing while you're packing up") is a bilingual music project producing independent, documentary-style music videos throughout Greater China. We're not tied to any particular genre and we ask artists to perform in a location that you wouldn't typically see them performing in. Where possible we aim to make music for an unsuspecting audience, and capture the energy, artistry and unpredictability of live performance.
Every film receives a hand-drawn treatment from Nini Sum of Idlebeats, who produces unique art prints inspired by each film as part of an on-going collaboration with DaBaoGe. Logo and titles designed by Keflouis V.
DaBaoGe is a not-for-profit project and receives generous support from Converse. In the last 9 months, we've filmed The Black Atlantic (Holland), French Horn Rebellion (US), Fetish People (Taiwan), Hanggai (Beijing) and Little Punk (Shanghai), Zhang Shouwang (Beijing) and Lucifer (Beijing). The Black Atlantic said "It's the best live video we've ever done".
Inspired by The Takeaway Shows and Daytrotter. Founded by Andy Miller and Charles Lanceplaine.
DaBaoGe Documentary Films joined Society6 on May 28, 2013.
DaBaoGe Documentary Films's Store
20 results
Filter