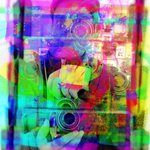 Juan Antonio Zamarripa [Esqueda]
Born in Los Angeles, California. Moved to Barcelona (Catalonia), Spain. Working as a graphic designer/photographer. I offer up analogue and digital image photomanipulation work (favoring Open Source applications), as well as scans of drawings or illustrations and paintings. Transient motto: "Living just enough, just enough, for the city." - Stevland Hardaway Judkins/Morris Consistent motto: "Whatever you do will be insignificant, but it is very important that you do it." - Mohandas (Mahatma) Gandhi Peace to you & yours. Thanks for visiting. More: http://dabnotu.com Contact: dabnotu_at_tuta_dot_io Juan Antonio Zamarripa [Esqueda] joined Society6 on June 16, 2011
More
Born in Los Angeles, California. Moved to Barcelona (Catalonia), Spain. Working as a graphic designer/photographer.
I offer up analogue and digital image photomanipulation work (favoring Open Source applications), as well as scans of drawings or illustrations and paintings.
Transient motto: "Living just enough, just enough, for the city." - Stevland Hardaway Judkins/Morris
Consistent motto: "Whatever you do will be insignificant, but it is very important that you do it." - Mohandas (Mahatma) Gandhi
Peace to you & yours. Thanks for visiting.
More: http://dabnotu.com
Contact: dabnotu_at_tuta_dot_io
Juan Antonio Zamarripa [Esqueda] joined Society6 on June 16, 2011.
Dabnotu Blipfoto 2011 09 24 2011 10 16 More by Juan Antonio Zamarripa [Esqueda]
1000+ results
Filter