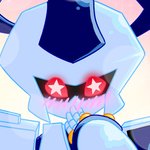 Daecus
Hello!! You may have seen me either on Tumblr or Deviantart. If so, thanks for finding me! I hope you are satisfied with the products you buy, and thank you for your patronage and time. If you see any of my art being sold on any other site or posted anywhere other than Tumblr or Deviantart, please let me know because that means it was stolen!! If you have any questions, send me a message in daecus.tumblr.com/ask Daecus joined Society6 on October 4, 2016
More
Hello!! You may have seen me either on Tumblr or Deviantart. If so, thanks for finding me! I hope you are satisfied with the products you buy, and thank you for your patronage and time.
If you see any of my art being sold on any other site or posted anywhere other than Tumblr or Deviantart, please let me know because that means it was stolen!!
If you have any questions, send me a message in daecus.tumblr.com/ask
Daecus joined Society6 on October 4, 2016.