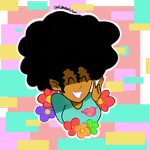 Funky Art Vibes
Artist and Daydreamer. All artwork is created from scratch with prisma colors, copic markers, water colors and ect. I am a self taught artist. I've been drawing since the day I could hold a pencil, and I've just started teaching myself to draw digitally this year. I hope to one day go to art school and become an animator so that I can bring my drawings to life. Funky Art Vibes joined Society6 on January 6, 2014
More
Artist and Daydreamer.
All artwork is created from scratch with prisma colors, copic markers, water colors and ect.
I am a self taught artist. I've been drawing since the day I could hold a pencil, and I've just started teaching myself to draw digitally this year. I hope to one day go to art school and become an animator so that I can bring my drawings to life.
Funky Art Vibes joined Society6 on January 6, 2014.