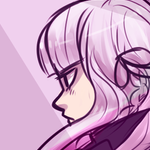 Dampho
Hey there! I'm Marisol Conde, or "Dampho" online, currently living in Toronto as an art student and aspiring to be a video game developer or comic artist. I'm a shy girl who likes video games, ramen, comics, robots, dorky guys, fancy wear, and V8. Portfolio Blog: http://damphotomas.tumblr.com/ Dampho joined Society6 on June 14, 2013
More
Hey there! I'm Marisol Conde, or "Dampho" online, currently living in Toronto as an art student and aspiring to be a video game developer or comic artist. I'm a shy girl who likes video games, ramen, comics, robots, dorky guys, fancy wear, and V8.
Portfolio Blog: http://damphotomas.tumblr.com/
Dampho joined Society6 on June 14, 2013.