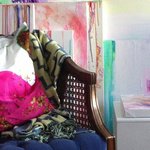 danamooneyart
For the last 10 + years, I've worked as a makeup artist, and have recently branched into the interior design industry as a focus. Painting, however, has been a common thread through-out my entire life, and I have now decided to concentrate on this medium as a creative outlet. I have always loved the way my art has enabled me to connect with my clients, and to really create something beautiful that they can bring into their lives. My goal with my paintings is to combine both elements of fine art and interior design, creating a seamless integration of something fresh, original, personal and dynamic to the interior living space. danamooneyart joined Society6 on January 4, 2014
More
For the last 10 + years, I've worked as a makeup artist, and have recently branched into the interior design industry as a focus. Painting, however, has been a common thread through-out my entire life, and I have now decided to concentrate on this medium as a creative outlet. I have always loved the way my art has enabled me to connect with my clients, and to really create something beautiful that they can bring into their lives.
My goal with my paintings is to combine both elements of fine art and interior design, creating a seamless integration of something fresh, original, personal and dynamic to the interior living space.
danamooneyart joined Society6 on January 4, 2014.