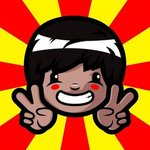 Daniel J. Campos Lozada
Hi, my name is Daniel Campos... I'm a young lawyer who likes taking pictures n' illustrate stuff, i'm also the co-founder with my older brother Dennis Campos or Abstrasctick on DeviantART, of "MADROCKSTARS" You can buy MADROCKSTARS Exclusive T-Shirts Designs Here on my Society6. Some Links: http://www.flickr.com/danielcamposlozada http://glampop.deviantart.com http://abstrasctik.deviantart.com http://www.madrockstars.com Daniel J. Campos Lozada joined Society6 on November 21, 2009
More
Hi, my name is Daniel Campos...
I'm a young lawyer who likes taking pictures n' illustrate stuff, i'm also the co-founder with my older brother Dennis Campos or Abstrasctick on DeviantART, of "MADROCKSTARS"
You can buy MADROCKSTARS Exclusive T-Shirts Designs Here on my Society6.
Some Links:
http://www.flickr.com/danielcamposlozada http://glampop.deviantart.com http://abstrasctik.deviantart.com http://www.madrockstars.com
Daniel J. Campos Lozada joined Society6 on November 21, 2009.
Daniel J. Campos Lozada's Store
55 results
Filter