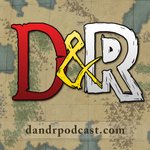 Dungeons & Randomness: a D&D podcast
Dungeons & Randomness is a weekly Dungeons and Dragons podcast with three separate groups playing in one world, where their actions effect one another to tell a giant, sprawling story. For two and a half years, Jason Massey has been the Dungeon Master for a show that is available free to all who wish to listen. Find us on iTunes! Over this time, Dungeons & Randomness has produced well over a hundred episodes, clocking in at nearly three hundred hours of free content! This online shop helps us keep the lights on, and allows us to continue making the very best show we can, for free, every single week. dandrpodcast.com patreon.com/dandr @dandrpodcast dandrpodcast@gmail.com Dungeons & Randomness: a D&D podcast joined Society6 on November 18, 2014
More
Dungeons & Randomness is a weekly Dungeons and Dragons podcast with three separate groups playing in one world, where their actions effect one another to tell a giant, sprawling story. For two and a half years, Jason Massey has been the Dungeon Master for a show that is available free to all who wish to listen. Find us on iTunes!
Over this time, Dungeons & Randomness has produced well over a hundred episodes, clocking in at nearly three hundred hours of free content! This online shop helps us keep the lights on, and allows us to continue making the very best show we can, for free, every single week.
dandrpodcast.com patreon.com/dandr @dandrpodcast dandrpodcast@gmail.com
Dungeons & Randomness: a D&D podcast joined Society6 on November 18, 2014.
Dungeons & Randomness: a D&D podcast's Store
333 results
Filter