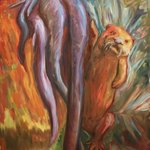 Danelle Landis
I aim to convey what fascinates me about creatures of all types. Whether it is the wariness in a wolf's gaze, the blank complexity of a locust's eye or the tension in a horse's posture, I love the challenge of interpreting what I see in an animal, hoping to pique the viewer's curiosity, excitement and understanding about the individual I have painted. Danelle Landis joined Society6 on March 17, 2014
More
I aim to convey what fascinates me about creatures of all types.
Whether it is the wariness in a wolf's gaze, the blank complexity of a locust's eye or the tension in a horse's posture, I love the challenge of interpreting what I see in an animal, hoping to pique the viewer's curiosity, excitement and understanding about the individual I have painted.
Danelle Landis joined Society6 on March 17, 2014.
Danelle Landis's Store
68 results
Filter