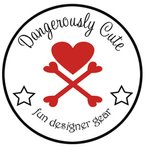 DangerouslyCute
I am a wife, mother and jill-of-all trades. Being creative and making beautiful things is what keeps me sane. I also like to try new things and you will see many of those creative sparks come to life as new items that I will have for sale. Thanks for stopping by and please come back and visit again! http://dangerouslycute.storenvy.com/ https://www.facebook.com/DangerouslyCuteTx DangerouslyCute joined Society6 on June 5, 2013
More
I am a wife, mother and jill-of-all trades. Being creative and making beautiful things is what keeps me sane. I also like to try new things and you will see many of those creative sparks come to life as new items that I will have for sale. Thanks for stopping by and please come back and visit again!
http://dangerouslycute.storenvy.com/ https://www.facebook.com/DangerouslyCuteTx
DangerouslyCute joined Society6 on June 5, 2013.