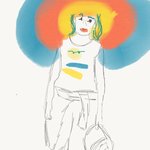 Daniela Echevarria
Influenced by vivid contemporary art and travel, I bring you my collection. This is just a glimpse into my photographic perspective, unifying my artistry and imagination. Capturing various unique forms and compositions, one may overlook. Explore the spectrum. For more visit: Dspectrum.tumblr.com Daniela Echevarria joined Society6 on December 11, 2015
More
Influenced by vivid contemporary art and travel, I bring you my collection. This is just a glimpse into my photographic perspective, unifying my artistry and imagination. Capturing various unique forms and compositions, one may overlook. Explore the spectrum.
For more visit: Dspectrum.tumblr.com
Daniela Echevarria joined Society6 on December 11, 2015.