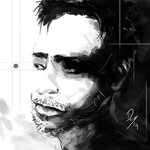 Daniel Do
Let me guide you through your vision. Since communication is a land of contrast, I would be happy to accompany you and define your vision. Illustrate your ideas, your fantasy? You want an artistic and powerful impact to your project? You are a writer and want to release drawings symbolizing your writings? You want to picture a book? Let me assist you in your visual approach. - Facebook : www.facebook.com/Identimage - Twitter : https://twitter.com/Identimage - Google + : http://bit.ly/17opsEM - Chaîne Youtube : www.youtube.com/user/Diosdan24 - Contact : daniel.do@identimage.fr - Bonus... : http://on.fb.me/XwDAWB Daniel Do joined Society6 on April 28, 2014
More
Let me guide you through your vision. Since communication is a land of contrast, I would be happy to accompany you and define your vision. Illustrate your ideas, your fantasy? You want an artistic and powerful impact to your project? You are a writer and want to release drawings symbolizing your writings? You want to picture a book? Let me assist you in your visual approach.
Facebook : www.facebook.com/Identimage
Twitter : https://twitter.com/Identimage
Google + : http://bit.ly/17opsEM
Chaîne Youtube : www.youtube.com/user/Diosdan24
Contact : daniel.do@identimage.fr
Bonus... : http://on.fb.me/XwDAWB
Daniel Do joined Society6 on April 28, 2014.
Daniel Do's Store
60 results
Filter