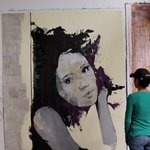 Daniella Marie
My work explores views of women in our society. By utilizing my own photographs of females as the subject matter, I can personally explore how our culture has sexualized and socially constructed the female body, as well as the impact of the male gaze. Women have this certain standard of desirability that comes with an unwritten date of expiration. Many are placed into categories depending on what society believes to be the ideal or its counterpart. These ideals and expectations that society has created, weighs heavily on the minds of women and influence all of our lives. These concepts not only influence my work through subject matter but my media work as as well. Using my photographs as the main component, I incorporate multiple layers to develop the piece creatively so that it no longer represents just a photograph. I believe that by using my personal photographs, they highlight how real women are affected by our modern day culture. My base layer usually consists of transfers of magazine advertisements. I use the advertisements as the base layer to demonstrate how our culture's idea of the female body is always weighing heavily in the back of our society's mind. To emphasize and help represent femininity, and body sizes, I utilize sewing patterns as my next layer. Additionally, I include texts from quotes, song lyrics, or personal writings, that tie to the inspiration of each piece. With the multiple layers in the artwork, the viewer can fully engage in the piece. Daniella Marie joined Society6 on May 5, 2014
More
My work explores views of women in our society. By utilizing my own photographs of females as the subject matter, I can personally explore how our culture has sexualized and socially constructed the female body, as well as the impact of the male gaze. Women have this certain standard of desirability that comes with an unwritten date of expiration. Many are placed into categories depending on what society believes to be the ideal or its counterpart. These ideals and expectations that society has created, weighs heavily on the minds of women and influence all of our lives.
These concepts not only influence my work through subject matter but my media work as as well. Using my photographs as the main component, I incorporate multiple layers to develop the piece creatively so that it no longer represents just a photograph. I believe that by using my personal photographs, they highlight how real women are affected by our modern day culture. My base layer usually consists of transfers of magazine advertisements. I use the advertisements as the base layer to demonstrate how our culture's idea of the female body is always weighing heavily in the back of our society's mind. To emphasize and help represent femininity, and body sizes, I utilize sewing patterns as my next layer. Additionally, I include texts from quotes, song lyrics, or personal writings, that tie to the inspiration of each piece. With the multiple layers in the artwork, the viewer can fully engage in the piece.
Daniella Marie joined Society6 on May 5, 2014.