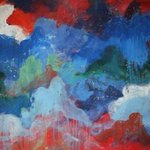 DANiELLE
Danielle Halford was born on February 22, 1976 in Birmingham, Alabama. As a small child her family moved to Plano, Texas. She currently resides with her son and spouse who is an active duty Career Counselor stationed in Honolulu Hawaii. Danielle Halford graduated from the Savannah College of Art and Design with BFA in Painting in 2011. Her current painting projects are a series where she is using as few brushes as possible. She works the paint primarily by pouring it on and then removing it with various squeegees and other splatter techniques. Danielle Halford continues to be interested in art activism and involvement with the arts in the local community. Those interests led her to join the Plano Art Association in her home state of Texas in 2004. Her appointment to the Board of Directors as the Social Chair was at the request of that year's association president, Nelum Walpola. She also represented the Plano Art Association at other local community organizational meetings and helped organize joint events. Mrs. Halford also attended the open city hall meetings as an activist for the preservation of the arts. DANiELLE joined Society6 on October 23, 2013
More
Danielle Halford was born on February 22, 1976 in Birmingham, Alabama. As a small child her family moved to Plano, Texas. She currently resides with her son and spouse who is an active duty Career Counselor stationed in Honolulu Hawaii.
Danielle Halford graduated from the Savannah College of Art and Design with BFA in Painting in 2011.  Her current painting projects are a series where she is using as few brushes as possible. She works the paint primarily by pouring it on and then removing it with various squeegees and other splatter techniques.

Danielle Halford continues to be interested in art activism and involvement with the arts in the local community.  Those interests led her to join the Plano Art Association in her home state of Texas in 2004. Her appointment to the Board of Directors as the Social Chair was at the request of that year's association president, Nelum Walpola. She also represented the Plano Art Association at other local community organizational meetings and helped organize joint events.  Mrs. Halford also attended the open city hall meetings as an activist for the preservation of the arts.  

DANiELLE joined Society6 on October 23, 2013.