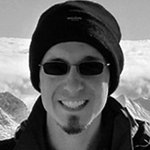 Daniel Ranger
Known for his carefully crafted fantasy, wild life and Norse/Celtic art Daniel's style is both realistic yet imaginative. He is inspired by mythology, nature and history. He has studied a wide range of creative disciplines such as graphic design, creative writing, 3D and illustration.
In Daniels own words; "An artwork should speak for itself by communicating a feeling, a characters personality, or a deeper message. Even though I mostly illustrate the fantastic this needs to be grounded in reality, so that the viewer can find something familiar and connect with that even with the most outlandish fantasy."
Today you can find Daniel in the scorched land down under where he is ever working away at his latest creative project.
Connect with and follow Daniel here:
www.creativeranger.com https://www.behance.net/CreativeRanger
Read more