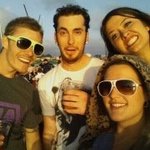 Daniel Thomas Williams
I am 25 years old and live in Santa Cruz California. I am currently a cook pursuing my career goal of becoming a chef. I attended UCSC under a Philosophy/Art double major and still participate in art, as it is passion of mine.
STATEMENT OF THE ME:
I do my work because it makes me feel good. Nothing more or less. My worldly situation leaves me with a feeling of inadequacy when addressing my artistic predecessors and while looking at humanity's issues. Anxiety builds and swirls around me when I meditate on any worldly pickle and the ways in which ART has attempted to address them. So I say, "Fuck it!" I do this for me. My work does not cure the world of any diseases or disorders, but it provides a way for me to relieve a lot of this pressure and produce something meaningful and hopefully relate-able.
A main goal within my practice is to stretch my abilities. I engage in many mediums as it allows growth in different directions and mentalities. Too much repetition sets the mood for stagnant development. Recognizing this, I do as much repetition as needed to gain familiarity with a medium, then move on. I revisit a medium when I feel the need to further develop a skill, or when I think I can view it with new insight. I work with messages in a parallel way.
My work dabbles in many subjects. I am interested in threads wrapping around consumerism, the technological age and its consequences, a failed 'American dream', personification of material objects, advertising, and hell... sometimes I let the piece lead me.
I make decisions in my work based on my personal aesthetic, doing my best to translate concepts while letting the viewer grasp the idea in a useful way. I understand this sounds cliche, but isn't this what all artists are trying to do? Engaging in this successfully is the hardest part of the sport. I am learning as I go.
So suck it.
Read more
Daniel Thomas Williams's Store
Filter