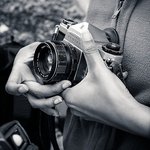 DaniLise Photo
Hi! Thanks for stopping by my page! I'm super excited for you to see what I'm offering. I've had a passion for photography for the past few years and finally decided that I should do something with it! This is an expensive hobby so why not try to make some money on the side, right! A little about me: I was born in Philly, grew up in Jersey, and now I live in the Chicagoland area. I'm back and forth to the east coast visiting family and friends whenever I can. I love to travel and can't seem to sit still long enough so when I get ancy I get up and go! I have wonderful friends and family that welcome me into their home whenever I show up on their doorstep and I'm so thankful for them! I hope you enjoy my creations! All photos are taken by me. Thanks for supporting me, it really means alot! Share your DaniLise prints & products on Instagram (@danilisephoto)! Use hashtag #danilisephoto © 2017 DaniLise Photo DaniLise Photo joined Society6 on December 9, 2016
More
Hi! Thanks for stopping by my page! I'm super excited for you to see what I'm offering. I've had a passion for photography for the past few years and finally decided that I should do something with it! This is an expensive hobby so why not try to make some money on the side, right!
A little about me: I was born in Philly, grew up in Jersey, and now I live in the Chicagoland area. I'm back and forth to the east coast visiting family and friends whenever I can. I love to travel and can't seem to sit still long enough so when I get ancy I get up and go! I have wonderful friends and family that welcome me into their home whenever I show up on their doorstep and I'm so thankful for them!
I hope you enjoy my creations! All photos are taken by me.
Thanks for supporting me, it really means alot!
Share your DaniLise prints & products on Instagram (@danilisephoto)! Use hashtag #danilisephoto
© 2017 DaniLise Photo
DaniLise Photo joined Society6 on December 9, 2016.