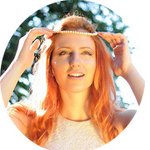 Danna Victoria
Hello and welcome to my world of imagination! www.dannavictoria.com I'm Victoria, a free-spirited young artist. For the past five years I've been working as a freelance illustrator, and in that time I met some incredible people and worked on amazing projects. I just love my job! My style is a combination of traditional watercolor techniques mixed with new technologies like Adobe Photoshop and Adobe Illustrator. I enjoy painting, listening to good music and discovering new places. The services I offer are logo design, graphic design, company branding and identity, web design and developing & children book illustrations. Danna Victoria joined Society6 on March 3, 2015
More
Hello and welcome to my world of imagination! www.dannavictoria.com
I'm Victoria, a free-spirited young artist. For the past five years I've been working as a freelance illustrator, and in that time I met some incredible people and worked on amazing projects. I just love my job!
My style is a combination of traditional watercolor techniques mixed with new technologies like Adobe Photoshop and Adobe Illustrator. I enjoy painting, listening to good music and discovering new places. The services I offer are logo design, graphic design, company branding and identity, web design and developing & children book illustrations.
Danna Victoria joined Society6 on March 3, 2015.