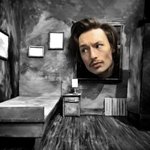 Dann Parry
Hello. I'm Dann.
Born twenty-something years ago in a tiny village that could easily be mistaken for a squished fruit fly on a map, I moved to Farnham, Surrey to study BA Animation at the University for the Creative Arts. It was there in my attic that I found an oil painting of myself. "Perhaps I should nail my soul to the Devil's altar," I murmered and in a flash, my soul escaped my body and hurtled towards the painting. Unfortunately, my soul ended up missing and hitting a near-by armature. And from then on I was transformed into a stop-motion animator. I was awarded a First Class Honours for my troubles.
I'm currently found skulking in the shadows of the animation studios at the Royal College of Art in search of a Masters with the other two thirds of my collective, Tripstitch.
These are some of the sketches and paintings and drawings I do.
Read more