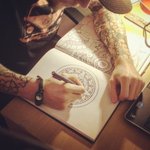 Danny Ink
An insight into a menacing mind, deliciously psycho.. Ive always loved the idea of infinite creative freedom. Worlds can be created at your fingertips, never ending possibilities that all come from your own mind. Most of my illustrations reflect what my emotions or thoughts are at the time, kind of like a diary in pictures. For me, emotions are physical and can be portrayed through expression through any medium you should so desire. I love all types of artwork mediums and styles, and when you step back and look from a higher perspective you can see the intricacy and beauty of the human imagination. Be an open minded person if you want to gain as much inspiration and experience in your own creative process. With such an abundance of creative ability available to us, anything can be possible in any world you want to create. Danny Ink Danny Ink joined Society6 on May 21, 2015
More
An insight into a menacing mind, deliciously psycho..
Ive always loved the idea of infinite creative freedom. Worlds can be created at your fingertips, never ending possibilities that all come from your own mind.
Most of my illustrations reflect what my emotions or thoughts are at the time, kind of like a diary in pictures. For me, emotions are physical and can be portrayed through expression through any medium you should so desire. I love all types of artwork mediums and styles, and when you step back and look from a higher perspective you can see the intricacy and beauty of the human imagination. Be an open minded person if you want to gain as much inspiration and experience in your own creative process.
With such an abundance of creative ability available to us, anything can be possible in any world you want to create.
Danny Ink
Danny Ink joined Society6 on May 21, 2015.