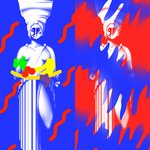 Dan Stafford
Dan Stafford is an illustrator from the UK who's work is a collage of bold shapes playing hide and seek with soft airbrush figures. He seeks to direct and entertain the brain with equal measures of precision and irreverence. Dan's work has been featured in numerous acclaimed design publications including The Creative Review Illustration Annual 2011 and IdN Magazine. Dan currently lives and works in London where he enjoys Saturday Morning Television, Avant Garde Pottery and IKEA furniture. Dan Stafford joined Society6 on November 26, 2009
More
Dan Stafford is an illustrator from the UK who's work is a collage of bold shapes playing hide and seek with soft airbrush figures. He seeks to direct and entertain the brain with equal measures of precision and irreverence.

Dan's work has been featured in numerous acclaimed design publications including The Creative Review Illustration Annual 2011 and IdN Magazine.

Dan currently lives and works in London where he enjoys Saturday Morning Television, Avant Garde Pottery and IKEA furniture.

Dan Stafford joined Society6 on November 26, 2009.