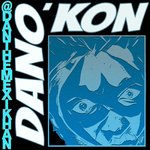 DanTheMexiKhan
Hello, My name is Dan. After doing album art for my podcast tumbnails I couldn't turn my brain off when it came to ideas popping up for a new design even when they had nothing to do with my podcasts. When chilling with a mates one day the subject was brought up and they suggested I should sell me designs on t-shirts and phone cases etc online through sites like Society6. So here is me, beginning that endeavor. My Skillz: I'm not Michelangelo or Banksy but I'm always trying to get better and learn my Own art style. Using software now for long enough to have passed the general learning curve need to be able to bring my designs to fruition. My Style: You can trust with my work you will get an array of styles themes, and formats as my brain has no real structure and kind of bounces from idea to idea like a blind monkey speed swinging from tree to tree, trying to escape a ferocious & sporadic forest fire. What I think I'm trying to say is, 100% you will NOT get bored with my profile. My Workflow: I aim for 2 designs a month. there will deffinatly be occasions where I think of and have time to create multpile new designs yet I will admit some times there is not much in the tank or the time to that many so I think 2 a month is a fair balance for time/quality/production consistency. FYI I may be a bit slower to complete a design than the average as I still feel that even with 2 years on and off experience, it takes many hours to get to that "Super Speedy Speed" flow that some of the pros have with digital design software, although having said that, I do feel my workflow improves with every design. Finaly: I hope you enjoy my art work, I really do. :) DanTheMexiKhan joined Society6 on September 4, 2016
More
Hello,
My name is Dan. After doing album art for my podcast tumbnails I couldn't turn my brain off when it came to ideas popping up for a new design even when they had nothing to do with my podcasts. When chilling with a mates one day the subject was brought up and they suggested I should sell me designs on t-shirts and phone cases etc online through sites like Society6. So here is me, beginning that endeavor.
My Skillz: I'm not Michelangelo or Banksy but I'm always trying to get better and learn my Own art style. Using software now for long enough to have passed the general learning curve need to be able to bring my designs to fruition.
My Style: You can trust with my work you will get an array of styles themes, and formats as my brain has no real structure and kind of bounces from idea to idea like a blind monkey speed swinging from tree to tree, trying to escape a ferocious & sporadic forest fire. What I think I'm trying to say is, 100% you will NOT get bored with my profile.
My Workflow: I aim for 2 designs a month. there will deffinatly be occasions where I think of and have time to create multpile new designs yet I will admit some times there is not much in the tank or the time to that many so I think 2 a month is a fair balance for time/quality/production consistency. FYI I may be a bit slower to complete a design than the average as I still feel that even with 2 years on and off experience, it takes many hours to get to that "Super Speedy Speed" flow that some of the pros have with digital design software, although having said that, I do feel my workflow improves with every design.
Finaly: I hope you enjoy my art work, I really do. :)
DanTheMexiKhan joined Society6 on September 4, 2016.