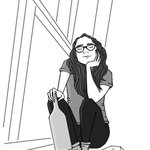 Darby Oehl
Hey there! I'm into graphic design, illustration, silly cat doodles, psychology, music, video games, good cartoons, food (beer), etc. etc. If you like what you see and have any other requests, get in touch! I'm always down to brainstorm. I also have a Fiverr account! https://www.fiverr.com/darbyo Darby Oehl joined Society6 on October 27, 2014
More
Hey there! I'm into graphic design, illustration, silly cat doodles, psychology, music, video games, good cartoons, food (beer), etc. etc. If you like what you see and have any other requests, get in touch! I'm always down to brainstorm.
I also have a Fiverr account! https://www.fiverr.com/darbyo
Darby Oehl joined Society6 on October 27, 2014.