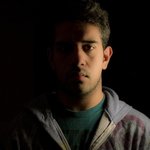 Dariush Nejad
I work as a multi-disciplinary artist, primarily in the area of acrylic painting, sculpture and photography. With regards to acrylic painting, layering is very essential to my process. Layering allows me to paint many different emotions on a single canvas over a long period of time. I usually work on a piece for several hours, dry with a large air dryer, and store carefully for a later time. I find bright, high contrasting colors very appealing and often combine them with sharp geometric shapes to create a sense of liveliness in my work. Most of my photography revolves around the idea of something never seen before. I produce sculptures that become key components in my work and process in photography. Fusing sculpture and photography allows me to create magical landscapes unbeknown previously to the viewer. There is no such thing as a problem that cannot be solved, only opportunity for creativity Dariush Nejad joined Society6 on August 19, 2013
More
I work as a multi-disciplinary artist, primarily in the area of acrylic painting, sculpture and photography.
With regards to acrylic painting, layering is very essential to my process. Layering allows me to paint many different emotions on a single canvas over a long period of time.  I usually work on a piece for several hours, dry with a large air dryer, and store carefully for a later time. I find bright, high contrasting colors very appealing and often combine them with sharp geometric shapes to create a sense of liveliness in my work. 

Most of my photography revolves around the idea of something never seen before. I produce sculptures that become key components in my work and process in photography. Fusing sculpture and photography allows me to create magical landscapes unbeknown previously to the viewer. There is no such thing as a problem that cannot be solved, only opportunity for creativity
Dariush Nejad joined Society6 on August 19, 2013.