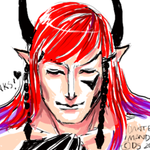 Dark Spectrum
Hello, I am a 4th year university student with an art major looking to sell my artwork on products. I am on several different sites and here are a couple: deviantART: http://dark-spectrumds.deviantart.com/ Tumblr: http://darkspectrum-art.tumblr.com/ Notice: ALL characters uploaded on my account belong to ME so please do not claim these designs as your own. Characters are all (c) to DarkSpectrum Dark Spectrum joined Society6 on July 22, 2014
More
Hello, I am a 4th year university student with an art major looking to sell my artwork on products. I am on several different sites and here are a couple:
deviantART: http://dark-spectrumds.deviantart.com/
Tumblr: http://darkspectrum-art.tumblr.com/
Notice: ALL characters uploaded on my account belong to ME so please do not claim these designs as your own.
Characters are all (c) to DarkSpectrum
Dark Spectrum joined Society6 on July 22, 2014.
Dark Spectrum's Store
115 results
Filter