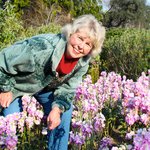 Darleen K. Stewart Nature Photos
Darleen K. Stewart (formerly Roberts-Stoner) is a professional environmental educator whose passion is nature photography. Her photos have been featured in the "Project Learning Tree K-8 Guide," California Fish and Game publications, and the "California Outdoor School Curriculum Guide." Her photographs have won awards from the North American Association for Environmental Education. Darleen K. Stewart Nature Photos joined Society6 on November 16, 2014
More
Darleen K. Stewart (formerly Roberts-Stoner) is a professional environmental educator whose passion is nature photography. Her photos have been featured in the "Project Learning Tree K-8 Guide," California Fish and Game publications, and the "California Outdoor School Curriculum Guide."
Her photographs have won awards from the North American Association for Environmental Education.
Darleen K. Stewart Nature Photos joined Society6 on November 16, 2014.
Darleen K. Stewart Nature Photos's Store
236 results
Filter