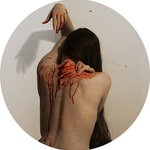 Ashley Marie Egan
Hello everyone, thank you for visiting my store! Please use #AMEmerch on social media posts featuring my work. I'll TRY to give everyone a shout out! • • • • • • • • My name is Ashley Marie Egan and I'm a writer of poetry and stories, a fine art photographer with an affinity for self-portraits, and a rookie illustrator with a deep love for food, animals, geek life, and horror. My art captures every aspect of my soul from the cute to the morbid. So don't be surprised if you see a cute animated donut next to a self-portrait of myself covered in blood. I believe accepting your darkness is just as important as accepting your light. After all, without the night we would never get to gaze upon the stars. So use art as a safe way to embrace your darkness, darlings. • • • • • • • •  Follow me here: Instagram: @DarlingAshez Twitter: @DarlingAshes Snapchat: @DarlingAshes Tumblr: https://darlingashez.tumblr.com/ Facebook Page: https://www.facebook.com/AshleyMarieEgan/ Pinterest: https://www.pinterest.com/darlingashes Google +: https://plus.google.com/+AshleyMarieEgan Ashley Marie Egan joined Society6 on November 27, 2014
More
Hello everyone, thank you for visiting my store! Please use #AMEmerch on social media posts featuring my work. I'll TRY to give everyone a shout out!
• • • • • • • •
My name is Ashley Marie Egan and I'm a writer of poetry and stories, a fine art photographer with an affinity for self-portraits, and a rookie illustrator with a deep love for food, animals, geek life, and horror. My art captures every aspect of my soul from the cute to the morbid. So don't be surprised if you see a cute animated donut next to a self-portrait of myself covered in blood. I believe accepting your darkness is just as important as accepting your light. After all, without the night we would never get to gaze upon the stars. So use art as a safe way to embrace your darkness, darlings.
• • • • • • • •
Follow me here: Instagram: @DarlingAshez Twitter: @DarlingAshes Snapchat: @DarlingAshes Tumblr: https://darlingashez.tumblr.com/ Facebook Page: https://www.facebook.com/AshleyMarieEgan/ Pinterest: https://www.pinterest.com/darlingashes Google +: https://plus.google.com/+AshleyMarieEgan
Ashley Marie Egan joined Society6 on November 27, 2014.