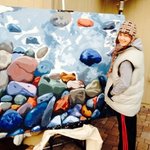 DashaStudios
Heading to Connecticut, hailing from Charlottesville, homegrown in Kansas, and holding memories of Ukraine; I am a self-styler, intrinsic inspirer, hopeful humanist, scooter rider, impassioned environmentalist, aspiring artist, possibly a poet, entertainer of entrepreneurship as a lifestyle, daughter, sister, and friend. Edward Hopper said "If I could say it in words there would be no reason to paint." Art for me too, is a method of self-discovery and expression where words are insufficient. I use both traditional and process-focused art to learn about my values, reactions, and worries and to pass on my vision for a more beautiful, peaceful, caring world. Thank you Inga Vereshchagina for teaching me art and for inspiring and mentoring me for so many years. DashaStudios joined Society6 on October 13, 2015
More
Heading to Connecticut, hailing from Charlottesville, homegrown in Kansas, and holding memories of Ukraine; I am a self-styler, intrinsic inspirer, hopeful humanist, scooter rider, impassioned environmentalist, aspiring artist, possibly a poet, entertainer of entrepreneurship as a lifestyle, daughter, sister, and friend.
Edward Hopper said "If I could say it in words there would be no reason to paint." Art for me too, is a method of self-discovery and expression where words are insufficient. I use both traditional and process-focused art to learn about my values, reactions, and worries and to pass on my vision for a more beautiful, peaceful, caring world.
Thank you Inga Vereshchagina for teaching me art and for inspiring and mentoring me for so many years.
DashaStudios joined Society6 on October 13, 2015.